Knowing your make up is one thing, but knowing what tools to use to maximize the effects of the makeup, is another and it can be super overwhelming
As part of our top ten blog series and kicking us off, we are dedicating this one to sharing 10 essential tools and brushes that everyone should have in their collection and teaching you how to use each type. We will also dish on our personal favorites and those that you can find in the store.

Face Makeup Brushes:

1.Brush Type: Foundation Brush

A foundation brush should be used for any type of wet foundation product, including your light, medium, and heavy foundation, tinted moisturizers, and alphabet creams (BB, CC, DD). You can also use this brush for larger areas you want to conceal. Our favorite is Huda Beauty's face buff blend brush. After trying a few foundation brushes and investing in even more brush cleaners, I started off with this brush with high scepticism! But here we are, me and brush still going strong and not a wash yet ! it really is streak free and is a beautiful blender. Definitely worth the investment.
Shop Huda Beauty face buff and blend brush now @ 3,000 KES
2.Brush Type: Concealer Brush

Concealer brushes are tiny, densely-packed brushes that allow you to apply a tiny amount of product to small areas with utmost precision. Because of its tiny size, you can easily use this makeup brush on any area of your face, including under and around your eyes, around your nose, and right on top of that zit that decided to make an unwelcomed appearance. Our Fave once again is Huda Beauty's Concealer Brush that goes beautifully with the brand's concealer however can be used with any other.
Shop Huda Concealer Brush now @3,000 KES
3.Brush Type: Kabuki Brush

Maybe its just how fun the name Kabuki is but highly recommended for applying loose powder, including foundation, blush, highlighter, and contour is the Kabuki brush. You can also use them to help blend out products. The voluminous bristles are typically cut into a flat top, though it's sometimes angled for more precision-powder work. Because Kabuki brushes are so versatile, we definitely consider it a must-have makeup brush. Our personal favorites, Becca's soft Kabuki Brush . With densely-packed flat-topped bristles, BECCA's Soft Kabuki Brush will quickly become an indispensable piece of your make up kit., This multi-tasking marvel blends your powders (loose, pressed and mineral) flawlessly – buffing pigment into skin for undetectable perfection. The synthetic fibres are easy to clean and maintain, while the flat-bottomed handle allows you to stand the brush without the risk of it rolling.
Let us know whether you'd like us to stock the brush 🙂

4.Brush Type: Blush Brush

Blush and powder brushes look very similar, but the blush brush is notably smaller. This makes it easier to apply product to smaller areas of your face — such as blush on your cheekbones. Don't let the name fool you, though. Like the Kabuki brush, the blush brush is pretty damn versatile and has many uses. You can use it for a light dusting of highlighter or contour, and Androulakis says she even uses hers "to create the most perfect draped eyeshadow and cheek look in under a minute. Almost every brand will have their blush brush, but this is where we bring in the queen of brushes … Morphe . Specifically Morphe's Elite Tapered Blush Brush (E34). With its full domed head add this must have to your collection for easily application and blending of blusher, bronzer or powder.
Shop Morphe's Elite Tapered Blush Brush (E34) now @3,000 KES
5.Brush Type: Highlighter Brush
So this is where we depart from the rest, most highlighter brushes are fan brushes but for my ordinary self, I struggle with fan brushes and will leave it for the experts trained to use them. If you are a mystro, fan brushes can also be used for highlighters, but we prefer a highlighter brush. To use a highlighter brush, start parallel to the eye and on top of the cheek bone, dust highlighter onto the high points of the face before blending. our favorite brush combines both the ability to highlight, blend and bake- Huda Beauty's Bake and Blend Brush but we also have a few others you can look at . Morphe's elite mini powder brush or Becca's angled highlighter brush.
Shop Bake and Blend Brush @ 3,200 KES
Shop Morphe's elite mini powder brush @ 1,800 KES
6.Brush Type: Contour Brush
The tell-tale giveaway of a contour brush is its super soft, densely packed bristles and angled head. This shape allows you to carefully apply your favorite bronzer or contour without depositing too much or too little product. You can use this makeup brush under your cheekbones, just under the jawline, and around your hairline. Yes Huda has one too and is great, but our pick for the perfect contour brush is Morphe's flat contour brush. Loved by professional make up artists, its flatness makes it sharper and easier to carve out a tight contour. And just as a bonus, use it with Morphe's contour sticks that are really are creamy and delicious.
Shop Morphe's Flat Contour Brush @ 2,000 KES
Morphe's Contour sticks @ 2,500 KES
Eye Makeup Brushes:

7.Brush Type: Eyeshadow Brush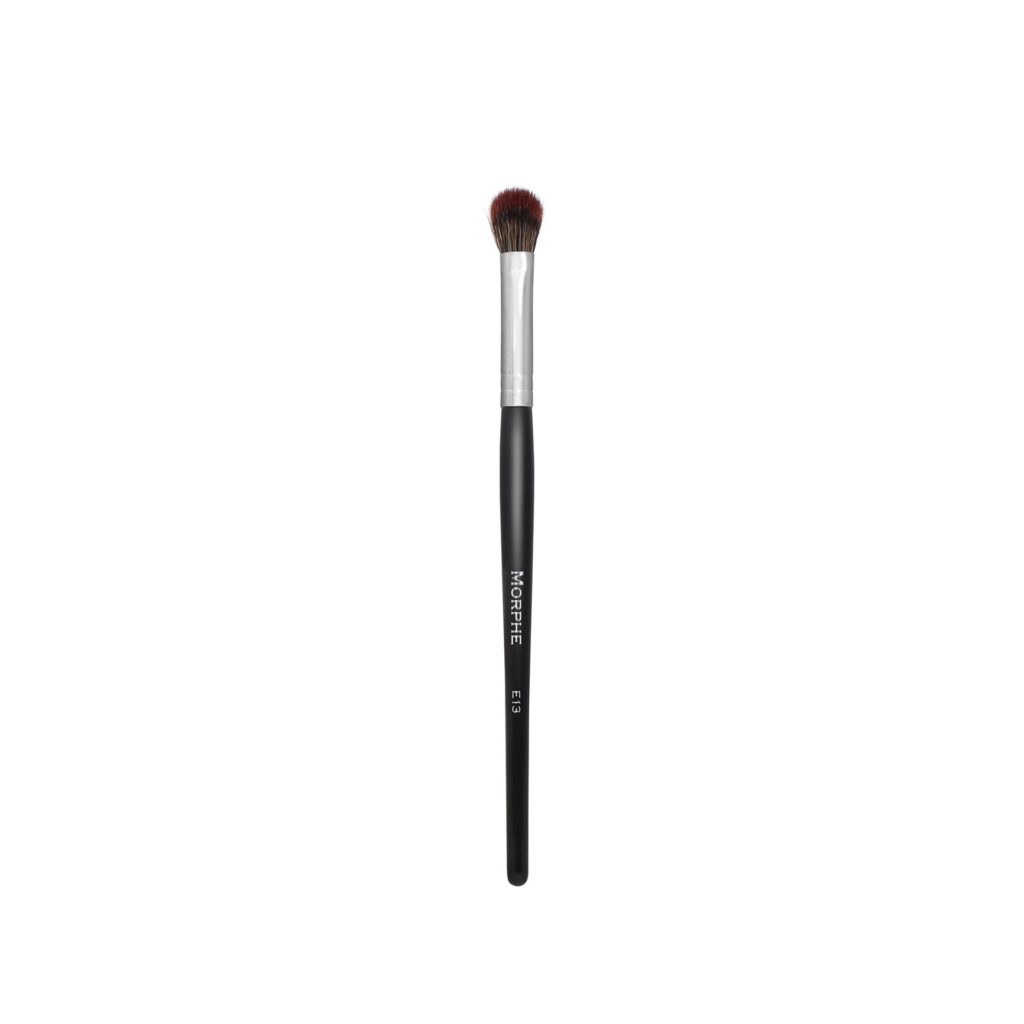 Wow! We have a tonne of eyeshadow brushes out there and types and frankly every brand will have their series of make up brushes, we are choosing to stock Morphe , not only because of their pocket friendly prices, but the range and effectiveness of these brushes. From rounded to angled brushes, to apply, buff and blend, Morphe has it all. We will be stocking selectively because of the wide range, but if there is a specific brush you need, add it to your wishlist and let us know.
8.Brush Type: Angled Eyeliner Brush

The angled eyeliner brush is pretty straightforward and considered a basic essential for anyone who wears eyeliner. The thin, flat surface lets you get a smooth and even application of eyeliner. Simply dot your lash line with color using the top of the brush and then smooth and elongate it by sweeping the brush over your lash line from end to end. Angled eyeliner brushes can also be used to smudge out a pencil eyeliner for a softer look, to define an eye crease, and to apply brow powder with better precision.

9.Brush Type: Liquid Eyeliner Brush

While angled eyeliner brushes are great for soft and smudgy looks, a liquid eyeliner brush is all about precision. This one is absolutely essential if you use a potted gel/liquid liner, which some prefer for its lasting power and inky application. Also, though many liquid eyeliners come equipped with their own brush built into the product, some prefer to deposit the color on their own liquid eyeliner brush and apply it that way.

10.Brush Type: Spoolie
ever have clumpy mascara or just unruly brows, welcome to the club, this tool is then what you will need. A standard spoolie is great for brushing out your brows before and after applying your favorite brow product," says Ashburn. "You can also use it to soften the look of product, or to comb out clumps in your mascara." Often, spoolies come with an angled brush on the opposite end that's intended for a brow powder.
Shop Morphe's angle liner spoolie brush @ 800 KES
If you're reading through this list thinking to yourself, "omg I need them all!" we can't blame you and if you can get them all, great! If not, let's help you create a priority list.
The most essential makeup brushes to add to your collection include the foundation (and/or beauty blender), kabuki, blush or contour, eyeshadow, angled eyeliner, and spoolie brushes. If you're someone who loves liquid eyeliner or very detailed eye looks, you'll want to include the eyeshadow detail and/or liquid eyeliner brushes to that list.
From there, we recommend the following in this order: concealer, lipstick, powder, fan or highlighter, and contour.
Happy shopping lovies.