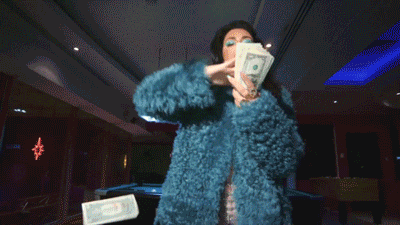 To celebrate the new shades of our Matte & Metal Melted Shadows, we wanted to help you find your ultimate It girl shade with a personality quiz. In case you haven't heard, we're adding five new bold shades to our Melted Shadows collection; each dual ended Matte & Metal shadow has one shimmer shade and another super pigmented matte color. The shade names are inspired by Instagram's glitterati squad; It girls who are constantly on the go running between A-list events and 5-star hotels, and snapping it for the 'gram along the way. Take our quiz to find your Melted Shadows alter ego:
Minted & Dinero
"Boujee, bad and thick" that's your vibe. You love to splash your cash on the latest Off-White drop, and you're always sitting FROW at fashion week. You would never dream of leaving the house without your micro sunnies. But, you also don't take yourself too seriously; you're always smiling.
Limelight & Gold Chains
We'll find you listening to 90s hip hop on repeat, sat at the latest hot spot decked out in jewels. Your fashion icon is Donatella and her supermodel squad. We'll find you tanning in Miami in the summer and Dubai during the winter, always working on perfecting that glow.
Double Pump & Latte & Drop Top
People describe you as the queen of the basic b*tches, but those who know you know you're not basic at all. You can't start the day without a double pump latte, almond milk, not soy (duh) accompanied by your Tom Ford shades. You strut down the sidewalk in your thigh highs, tapping away on your phone with your ballerina nails.
Wednesday & Fro-yo
You're a millennial Blair Waldorf; fashionable, sassy, and sometimes a little savage. You love to spend time with your squad, gossiping over froyo. You're a loyal friend and will always stand up for your besties.
Room Service & Do Not Disturb
People always tell you that you're high maintenance, but you DGAF. You know what you want, and you're not afraid to ask for it. You spend your days at the spa getting Swedish massages and sipping martinis at your fave members-only club. You like to fly under the radar, but your natural beauty always attracts attention.